Review:
Rachel Getting Married
5 stars
(out of 5)
By R. Kurt Osenlund
In the introduction of his book,
The Great Movies
, film critic extraordinaire Roger Ebert writes, "We live in a box of space and time. Movies are windows in its walls." Jonathan Demme's poignant domestic drama, "Rachel Getting Married," is one of those great, truth-telling windows in which we can see our reflection. Life, with all its dirty smudges, is mirrored back to us as this alternately heartwarming and heartbreaking film bluntly examines the human condition. Its representative sample is an especially dysfunctional Connecticut family with equal cause for joy and sorrow. Hanging with this clan, we share those feelings and more; Demme's direction and Jenny Lumet's script deliver them in spontaneous cascades. By the end, we've absorbed so much life, love, and brutal honesty that we feel the need to hug someone just to share the load.
There is a Rachel in the family (played by Rosemarie DeWitt), and she certainly does get married, but the principal focus is put on Kym (Anne Hathaway), Rachel's drug addicted live-wire of a sister who leaves a nine-month stint in rehab to come home for Rachel's wedding. Kym's return opens old wounds and creates new ones. We get an immediate sense of how much trouble she's caused in the past from the way her family behaves around her; most of them treat her like a ticking bomb. Her lovingly loony father, Paul (Bill Irwin), is constantly putting food in her frail hands and won't let her borrow the car. Her calculating, nearly-as-estranged mother, Abby (a regal Debra Winger, veteran of another reflective, smudge-filled window, "Terms of Endearment"), dares not get too close, lest she confront her maternal failures. Rachel's best friend and maid of honor, Emma (Anisa George) makes it her mission to point out Kym's faults and keep her from adding the wedding to her list of things destroyed. (Through quiet allusions, we also gather that Kym's done something far worse than lie, cheat, and steal – though she's done all of those things, too.)
The only person who expresses a serious interest in understanding Kym is Rachel, a soon-to-be shrink who's watched her little sister come apart at the seams. For that reason, Kym's erratic behavior tries Rachel's patience most of all, and the sisters' relationship is continuously tested. There are scenes of revelation between the two women that are about as raw as they come, heatedly alive and objectively captured in hand-held, home-movie fashion. The rest of the story is shown through that same unbiased lens, right down to bride Rachel and groom Sidney's (Tunde Adebimpe) lyrical vow exchanges (the film refreshingly makes no matter of the fact that the marriage is interracial, and neither will I). We attend this tumultuous event as guests and take in the whole thing from top to tails. We sit through the unnervingly candid rehearsal dinner, the bright and buoyant reception, and the behind the scenes dirt in between, all of it unfurling with a naturalness that feels organically cultivated by everyone involved.
The movie's fiery core is Hathaway, who's so good as Kym, the role could mark the acting feat of her career (and she's only 26). Her performance is by turns infuriating, hilarious, mortifying, smart, and devastating. She makes a steadfast choice not to judge her character but to slip into her skin with an open mind and leave the evaluation to the audience. Nothing Hathaway has done before – the least of which being Garry Marshall's glittery "Princess Diaries" flicks – comes remotely close to the fearlessness on display here. From her squirrel-chewed haircut to her thumping gait, from instances of commanding allure to ones of tearful vulnerability, she builds Kym from the ground up with the courage to crush her at any moment.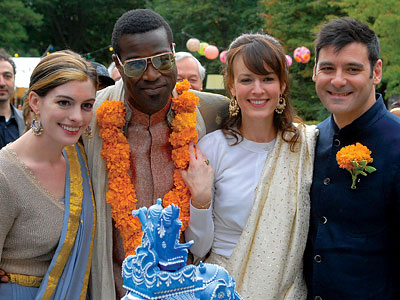 Hot on Hathaway's heels is DeWitt, whose stunning star turn as Rachel should jump her from virtual unknown to in-demand Hollywood heavyweight. She goes above and beyond the task of playing Kym's only formidable opponent and comes very close to stealing the show. DeWitt's Rachel is a real, flesh-and-blood woman driven by both compassion and resentment, and the actress' contribution to this project is an integral part of its success. Another is Lumet's falsehood-free writing and all its impulsive mood swings. If one were to graph "Rachel Getting Married"'s emotional content, the end result would look like a kid's doodle of the Rocky Mountains. Like Hathaway's performance and like life, it's highly unpredictable and constantly redirecting its energy.
Every Thanksgiving for the past five years, I've watched 2003's unsung gem, "Pieces of April," a movie with many parallels to this one. Shot in the same cinema verite' style, it depicts an extremely flawed black sheep and her quirky modern family as they reluctantly gather together for a celebration and hit big bumps along the way. With a similar veracity, it offers an impartial glimpse into someone else's life while allowing us to reflect on our own. I'm going to have to choose a holiday to devote to "Rachel Getting Married." It's a celebration I want to revisit, a window I don't want to close.