Review:
Hellboy II: The Golden Army
3.5 stars
(out of 5)
by R. Kurt Osenlund
The summer of 2008 will probably be remembered – in film buff circles, anyway – as the summer of the comic book movie. First, there was "Iron Man," then "The Incredible Hulk," then "Wanted," then the offbeat twist "Hancock." Did I miss anything? Oh yeah, Warner Bros. still has yet to release Christopher Nolan's "Batman Begins" sequel "The Dark Knight," and I suppose one could argue the origins of "The Mummy: Tomb of the Dragon Emperor." That's enough geek lit.-inspired BIG pictures for three blockbuster seasons, let alone one. To add to this year's pile, here's "Hellboy II: The Golden Army." Only, there's a catch: unlike its much inferior first installment (which simply couldn't hang with the cool kids like "Spider-Man" and the "X-Men"), this isn't a comic book movie. It's a pure-blooded fantasy, through and through, forged with streamlined Henson-esque imagination by growing master of the genre Guillermo Del Toro ("Pan's Labyrinth"), whose movies look better and better as studios agree to give him more and more money.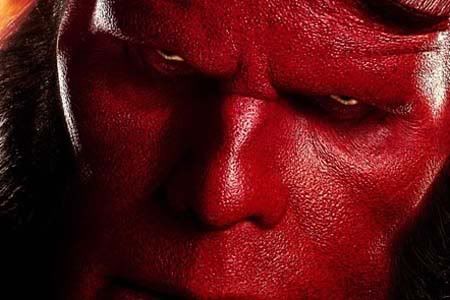 In this one, Hellboy (a rejected demon that the U.S. government picked up in Scotland in 1944, who files down his horns and likes TV and junk food) is in trouble with his superiors at the Trenton paranormal studies stronghold where he lives for unabashedly making himself visible in public. Meanwhile, the immortal elf prince Nuada, who's supposed to be hiding in the woods with his pale-skinned kin, is also making quite a stir, ascending from Manhattan sewers to terrorize wealthy auction-goers. It turns out the prince has quite a grudge against humanity. An ancient truce between the two races has gone stale, and Nuada is tired of literally living in the gutter. He needs only the final piece of a sacred crown (which is held by his estranged, do-gooder of a sister to which he has a type of psychic link) to possess the power to call upon The Golden Army, a battalion of indestructible machines that could wipe out mankind. Time to call Hellboy and his friends.
"Hellboy II" is better than its predecessor because the ingredients have changed. No doubt putting confidence in him after "Pan's" nabbed 3 Oscars, the producers of this flick have wisely given Del Toro carte-blanche to sprinkle on as much of his signature dark pixie dust as he pleases. This time, the hero is given a little more backstory in the beginning of the film, when a flashback to his childhood that's really only included to explain the history of the title's shiny force shows him as a wee pipsqueak with teeth like Alvin the Chipmunk. A bit too rubber-masky, this one element of this one sequence is the only misstep of Del Toro's perfect look for the picture, which is at once old fashioned and wildly inventive. Like Peter Jackson, Del Toro is a purist who favors makeup and puppets over the current industry-wide overuse of showy CGI. He uses computer enhancements, of course, but apparently only when necessary. This is a creature feature first, with monsters big and small, aside from the main characters. Scenes are populated with fairy-like crawly things, a winged grim reaper with a half-moon shaped head, an elven king with a tree branch growing out of his skull, and of course, the dreaded Golden Army: 4,900 individual masses of shimmering metal and animate lava. It all looks so organically dreamy, and it would make the recently deceased effects wizard Stan Winston proud.
It's a good thing Del Toro has that fantastic vision and artistic sensibility with which to dress this film up, because he doesn't get much magic out of his lead actors. Back as the cigar smoking, beer guzzling, demonic badass of the title is Ron Perlman, an actor who must be in great physical shape just to be able to move under what has to be dozens of pounds of red prosthetic flesh. But Perlman can't give much of an expressive performance buried beneath that crimson exterior, and when he does come to life, it's to deliver cheesy lines of bad boy dialogue that get old after the first act. Selma Blair, reprising the role of Hellboy's squeeze Liz Sherman, once again delivers some of the most lifeless movie acting I've ever seen. As if she's trying like hell to win a Razzie, everything Blair says and does lands with a heavy 'thud.' It's a cruel joke that her character has the ability to spontaneously combust at will, because she's dry and hollow enough to go up like firewood. Though he too is hidden behind fake skin and fins, the best of the bunch is frequent Del Toro collaborator Doug Jones (he played Pan and the Pale Man in "Pan's Labyrinth") as Hellboy's erudite, amphibious sidekick Abe Sapien. One of the industry's most sought after physical actors, Jones (whose buffed-up C-3PO build also landed him the role of the Silver Surfer in "Fantastic Four 2") has much more screen time in this sequel than he did the first time around, and the movie is better for it. Watch for he and Perlman's drunken rendition of Barry Manilow's "Can't Smile Without You" - it's an unexpected delight.
It was recently confirmed that Del Toro has signed on to direct, possibly in two parts, "The Hobbit" - the prequel to Jackson's momentous "Lord of the Rings" trilogy. Jackson's are some incredibly large shoes to fill, given the fact that his adaptation of J.R.R. Tolkien's literary classic forever changed the way epic pictures are made (and it raked in about a bajillion dollars). When legal disputes with New Line Cinema resulted in Jackson (who's currently wrapping the screen version of Alice Sebold's novel "The Lovely Bones") stepping down from the director's chair to executive produce the "Hobbit" films, legions of fans (including myself) grew nervous about who could possibly take the reigns of this beloved franchise. Watching his newest creation not only put me at ease, but made me excited to see what Del Toro will bring to the table. His woodsy, autumnal aesthetic is perfect for Middle-Earth. Although its story is a little too reminiscent of his other superhero sequel, "Blade II" (what with the pasty villain and his family problems), if "Hellboy II: The Golden Army" is a preview of what's to come from this filmmaker, he could also steal Jackson's crown as the new king of fantasy.