Review:
The Diving Bell and the Butterfly
5 stars (out of 5)
by R. Kurt Osenlund
In 2003, a French-language film called
The Barbarian Invasions
told the story of a man in a hospital, at the end of his life, whose friends corralled around him, and whose estranged son reconnected with him before the end. It took home the Oscar for Best Foreign Language Film. In 2007, a French-language film called
The Diving Bell and the Butterfly
told the story of a man in a hospital, possibly at the end of his life, whose friends corralled around him, and whose semi-estranged father reconnected with him before the end. While it's ineligible for the Foreign Film Oscar,
The Diving Bell
is up for four Academy Awards, and may just take home all of them.
Lately, it seems, the French have an eerily proficient way of making death and dying appear not only bittersweet, but beautiful on film. Maybe it's the language. Maybe it's the culture. Or maybe it's the fact that, at least in these two films, the protagonists displayed are individuals of such strong vivacity and soul, that their bodies are able to be shepherded through even the very worst of times. In turn, those individuals make a most elegant transition from this world to the next, whatever that world may be. As far as I'm aware,
Invasions
was not based on any actual events, though it certainly could have been.
The Diving Bell
was: the incredible and inspiring true story of the former editor of French Elle, Jean Dominique-Bauby (played here with great heart and unexpected charisma by French actor Mathieu Almaric).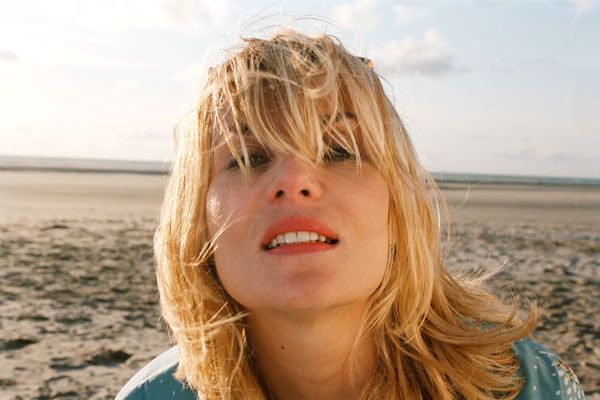 Bauby (or Jean-Do, as the film tells us he was called by his friends), suffered a massive stroke in 1995 that left him paralyzed and speechless, but fully cognizant - an extremely rare condition the doctors call "locked-in syndrome." Miraculously using only the blinking of his left eye to designate individual letters, Jean-Do would go on to write a best-selling autobiography of his experience, of which the film shares a title and is an account. We begin the film's journey appropriately locked in with him, seeing only what his eyes (and eventually eye, as the right is stitched shut due to a faulty muscle) can see. The horror - and surprisingly, humor - of what it might feel like to be in such a state registers immediately. Thankfully, we do not spend the film's entire 112 minutes from this point of view, as the result would be a painstaking lesson in tolerance. No, the film's breathtaking cinematography (by Janusz Kaminski) takes on many forms, much thanks to the artful guidance of director Julian Schnabel.
Schnabel (whose previous credits include 2000's
Before Night Falls
and 1996's
Basquiat
) is actually a painter at heart, and like the great Jean Renoir, a painterly influence comes through in his films. The images in
The Diving Bell
never appear showy, but instead rise to whatever occasion the film's narrative calls for, like a fine artist switching brushes for the appropriate stroke. We view Jean-Do's affliction from his perspective, from the perspective of his caregivers and visitors (two of which, Marie Josee-Crozie and Marina Hands, were also actors in
Invasions
), in lively and upbeat flashbacks from his high-society life as a publishing giant, in quieter flashbacks between him and his elderly father (played, in a glorious cameo, by the great Max Von Sydow), as well as in the limitless world of his imagination, from which this entire creation essentially was born. Schnabel seamlessly melds all viewpoints together in a mixed media of photographic styles, and the result can easily be called a masterpiece.
There will be people who will tell you that this film is depressing - don't listen to them. There will also be people who will tell you that its ever-changing cinematography is jarring - don't listen to them either. If I'm right, and the French are indeed as adept as they appear to be in illustrating death as a thing of beauty in the right circumstances, then
The Diving Bell and the Butterfly
might just be the most gorgeous example to date. Like
Invasions
, it does not woefully mourn its central character's life, but celebrates it in vibrant color. And rather than force-feed its audience a string of melodramatic sequences, it floats you through waves of genuine emotion as if it were riding on the wings of its title. Schnabel and writer Ronald Harwood have adapted Jean-Do's legacy with the imagination and grace in which he wrote it; and though he died just days after his book was published in 1997, that legacy will live on through this film.